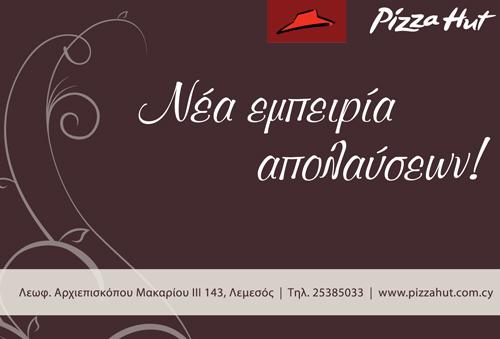 We, my youngest brother (Pk16) and I, were guests at the opening gala night of the new look Pizzahut on Makarios Avenue, so we thought we'd share our thoughts on the renovated venue that is now offering a new atmosphere with live music and boasts a warm new interior design.
Those who had previously been to the pizzahut on makarios, remember the spacious outlay of the restaurant where families normally visited for their guilty nights of munching away large pizzas with friends and/or family. The venue is now much more compact and also features a second floor.
The one thing that stuck right too us is the 'high class' image and menu of the re-opened venue. On the menu, we failed to see the trusted favourites of stuffed crust or deep pan pizzas or even the almost-illegal delights that are found on the wing street menu. We hoped it would just be the menu for the evening and suspected they would let us try some of them… And phew! We just asked, and the menu will still boast our tried and tested favourites 🙂
(We should probably mention that this review is being typed as we sit here in the new comfy seats at the restaurant awaiting the usual promptness of the rest of the guests.)
We'll be sure to be revisiting soon… And this is why… (Other than to get our fill of our favourite pizza hut specials)
The layout of the restaurant is new yet welcoming and provides a great atmosphere for those quiet dinners. Not only that, the staff are happy and friendly, which to be honest is lacking in many restaurants island-wide.
And now the food starts being served to our table and so we will start writing down our opinions as we go along…
Smoked Salmon Caprese – although we agree that this is not something we would ever imagine ordering, we were pleased with the great taste! Mmmm the salmon!
Bruschetta Classic – a fresh tasting variation from our normal starter of garlic bread.
Garlic Bread with Goat Cheese – another great alternative to the traditional garlic bread starter. Great if you want a little something to change the norms.
We now realise that they were not going to let us taste some of the items on the menu, but the whole damn list… and boy were we in for a meal and a half…
Favourite starter of the evening : PK16 – The garlic bread with goat cheese and Hector – Mmmmm the salmon!
Next we were greeted by two different pastas.
Lasagne Bites Spinach Ricotta – mmmmm smmmmmashing! Great mix of lasagne with spinach and ricotta cheese filling. PK16 – "that was sensational!"
Penne Pollo Funghi – its hard to go wrong with penne + chicken + mushrooms, but the kitchen pulled through once again with a great tasting meal and Hector wondered, "Could this replace my usual pizza order?"
Not to mention that we didn't let them take away the pasta till we left… oh wow.
Favourite pasta of the evening : Unanimous decision on the Penne Pollo Funghi!
It wouldn't be Pizza Hut without … yes you guessed it… then again a squirrel in Angola could guess it… the pizza 🙂
Frutti di mare – more salmon! We are not normally fans of seafood on pizza, but was pleasantly suprised by the combination! Give it a try if you haven't tried the sea meets italy combination before.
And we're officially struggling… We take a 5 min breather and take in some of the live music in the background… Here we goooooo again!
Prosciutto e rucola – this pizza was overdone, and appeared in a state that can only be described as a mess. However the "mediterranean" taste would be recommended to those who seek such a taste from a pizza. (As they have it on the menu, we're assuming there are people who do? :p)
Favourite pizza of the evening : we both side with the slightly more presentable and seafood-harbouring option.
Just when we thought the champagne and food had hit the spot we are presented with both deserts available.
Rich Chocolate cake – omfg wow! Sex on a plate! (and this coming from a male!) Daaamn! They also weren't joking about it being rich, there's enough chocolate in this cake to make Charlie cringe all the way back to his chocolate factory. Chocoholics you have found your desert!
Cheesecake Brulee – an equally orgasmic finish to the meal! So creamy! Leaves one feeling equally content but slightly less guilty than those who opted for the chocy cake heehee.
Favourite desert of the evening : Again a draw on taste, but the quality of the cheesecake (as oppose to us being chocoholics and loving most things chocolate) won us over. Winner, Cheesecake Brulee!
So now as we waddle out of this great feast, we hope we have opened your eyes to some new tastes in the newly renovated family favourite.
See you again Pizza Hut! And next time we're brining more people!