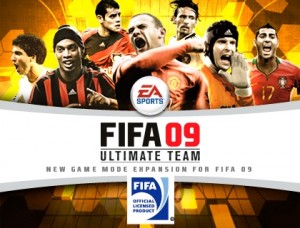 It's a late edition of Game Releases this week and it's FIFA09 that has to take the blame. More specifically FIFA 09's downloadable expansion pack (US$10) called Ultimate Team (UT) which was released last week on the PS3 and the 360. I have wasted most of my free time and some of sleep time as well on this mode. (Unfortunately, when compiling the weekly games release list I only go through retailers' coming soon pages which do not include any downloadable content. Lesson learned I hope.)
The FIFA series has made great strides in the last couple of years to narrow the gap in gameplay quality with the PES series and win over football fans' hearts. With the UT expansion however, I think FIFA has taken footy gaming to another level. In UT, much like in PES' Master League, you create your own team from scratch. You get a random bronze card pack of crappy players to begin with. Winning games earns you coins with which you can buy more bronze, silver and gold card packs containing stadiums, contract renewals, home and away kits, managers, physios, head coach, player and manager development cards and of course more players.
So far so good, but not that's not that big of a leap from PES ML. With UT however there are online tournaments, online trading and bidding of these cards much like you do on Ebay. One of my greatest pleasures is finding bargains of players. But setting up a good team is not just getting all the star players. Other factors have to be taken into consideration like the team's chemistry which is affected by a player's preferred position, formation and of course nationality.
This is a case of how the journey to build your Ultimate Team is probably sweeter than actually getting there. Seeing your new acquisitions perform well on the pitch in online and offline tournaments is reward in itself. To cap it off you have your own a book where you can keep all the players cards. Do remember the Panini football stickers in the 80s-90s? That's exactly how it is with this one.
The game is not perfect with EA's servers crashing frequently although they have been improving in the past couple of days. Also many people actually bought gold packs of cards with actual money which has created an imbalance in the game's economy. Within a couple of days people were online with super teams.
But one can choose how to create his own UT. If you are patient with this game then the UT will be your ultimate footy experience right now both offline and online.
FIFA09 Ultimate Team is my game of the week.
Release List
360
Afro Samurai
Leisure Suite Larry: Box Office Bust
Monsters Vs Aliens
Wheelman
PS3
Command & Conquer Red Alert 3 (Ultimate Edition)
Buzz: Brain of the UK
Leisure Suite Larry: Box Office Bust
Monsters Vs Aliens
Afro Samurai
Wheelman
Wii
Final Fantasy: Crystal Chronicles Echoes of Time
Monsters Vs Aliens
Jelly Belly: Ballistic Beans
Don King Boxing
Calvin's Tucker Redneck Jamboree
Mushroom Men: Rise of the Fungi
Pro Evolution Soccer 2009

PC
Drakensang
Leisure Suite Larry: Box Office Bust
Demigod
Battleforge
Wheelman
DS
Final Fantasy: Crystal Chronicles Echoes of Time
Nancy Drew and the Deadly Secret of Olde World Park
Lux Pain
Monsters Vs Aliens
Jelly Belly: Ballistic Beans
Imagine Doctor
Imagine My Restaurant
Don King Boxing
Core
Cake Mania 2
Mushroom Men: Rise of the Fungi
Phineas & Ferb

PSP
Mana Khemia: Student Alliance
Buzz: Brain of the UK